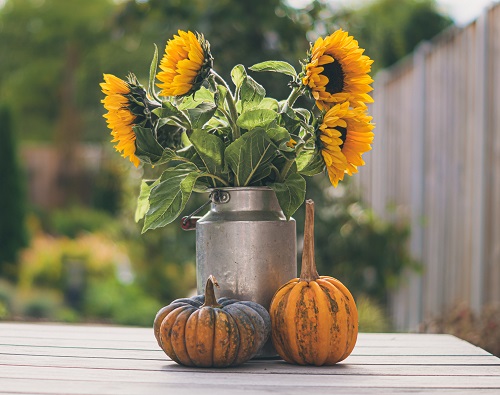 As we get cozy and the leaves change and cascade to the ground, it's time to start thinking about fall porch decorating ideas for a seasonal refresh. Decorating your outdoor space for the season is a perfect way to keep your porch inviting and exciting while celebrating the unique design elements of fall.
For the perfect front porch, consider these fall decor ideas:
Decorate with fall foliage
Try mixing textures of dramatic fall foliage to decorate your space. Combine spiky grass and mum grass, fluffy magic carpet spirea and bountiful kale to fill various rustic boxes. Just be careful to only water container plants when they're thirsty, as colder temperatures mean less active growth.
Make a harvest planter
You can fill a large container with more than just plants to decorate your fall garden. Try a selection of autumn items including pumpkins, gourds, pine cones, birch branches and small bushels of straw. Carve a few pumpkins for a personal touch, and finish the design with some thick rope to add a rustic vibe.
Create a cozy fall nook
If you want the outdoors to be functional and stylish, create a warm and inviting area to enjoy the autumn colors. Light up the space with string lights and create a relaxing wine with cozy pillows on an Adirondack chair. Include a matching side table with decorative lanterns filled with tea light candles for a bit of extra warmth and sparkle.
Attract visitors with a colorful entrance
Wanting some seasonal curb appeal? Dress up your home's entrance with a curated abundance of gourds. To keep the aesthetic clean and elegant, opt for gourds in soft and creamy colors instead of the usual bold orange.
You can never go wrong with planter boxes full to the brim with fluffy kale and autumn flowers, either. Keep a cohesive color scheme for seasonal appeal that's inviting but not overpowering to visitors.
These are only a few options for creating delightful fall porch decor. If you're in need of design ideas to take your outdoor space into a new season, consider these and other ways to celebrate with cozy autumn style.